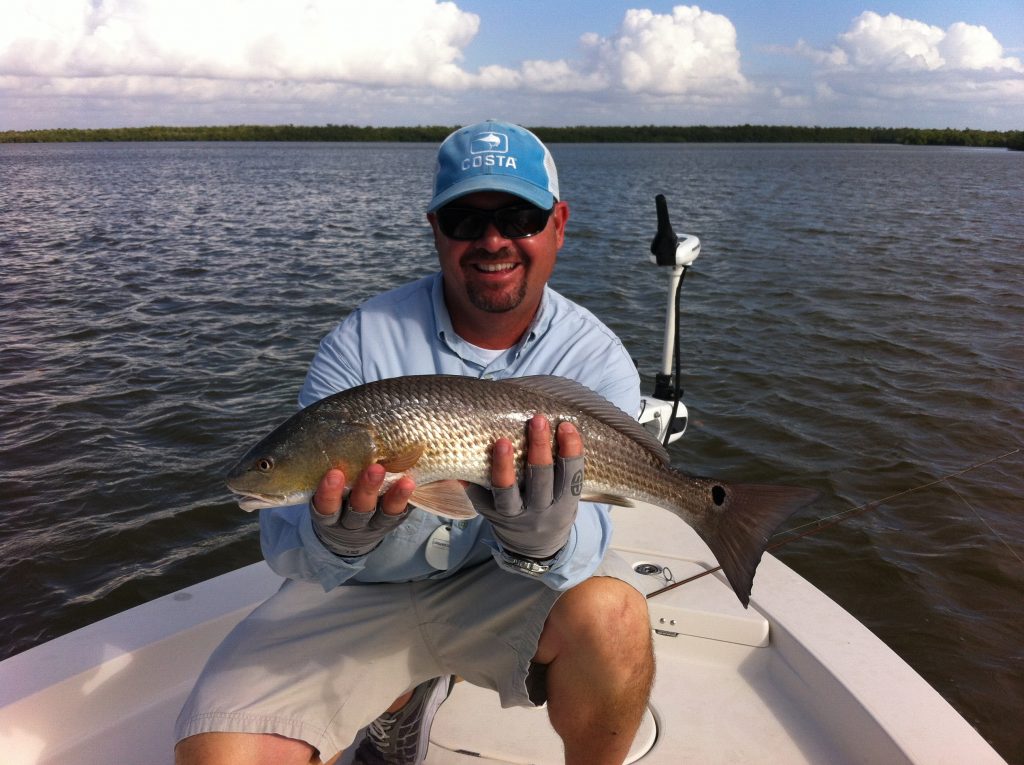 Cold front red fish, yup that's is what these past 2 weeks have been. Danny here hooked up on a nice slot. The cold fronts have piled on us so fishing the right time of day and the tide has been the ticket. Leaving at 7 am when it is 46 degrees is futile. Waiting until after 10 am is the prudent move.
Reds
We have been experiencing something I love to see. Many under slot red fish. This is a good sign. These juveniles will be slot fish next year. They are very healthy and you would think that 17 inch red you just caught was 24 inch fish. These fish are eager and we have caught them pretty regularly. Shrimp tiped jigs and gold spoons have produced good bites when fishing the outgoing lower part of the tide. Usual haunts like bar edges, deeper points and oyster bars have all had these guys on them sometime during the day.
Snook
Snook are around but you have to fish the dark bottom in the second bays and with the moon tides you better time it right or you will be eating lunch for 4 or 5 hours. The tides have been very low due to three factors; moon tides, east wind and high pressure. This combination creates negative tides up to 2 feet. So lots of dry flats. Be careful.
Sea Trout
So the sea trout have been almost a given every trip. Fishing the lower half of either tide will produce plenty of action with some trout in the 22 inch plus range. Shrimp, jigs, gold spoons and jerk baits have produced. Again finding the darker bottom and pot holes is your best bet.
Other Critters
Of course there is the by catch that keeps the day active. We have encountered some huge ladyfish and boy do they bend the rod big time. Many ladies over 20 inches. They don't call them poor man's tarpon for nothing. These guys on light tackle will take you around the boat a couple times.
I have some days left in February and March. Lets go fishing.
FISH THE TIDES NOT THE CLOCK
TIGHT LINES CAPT. JOHN