Backcountry Snook Are Aggressive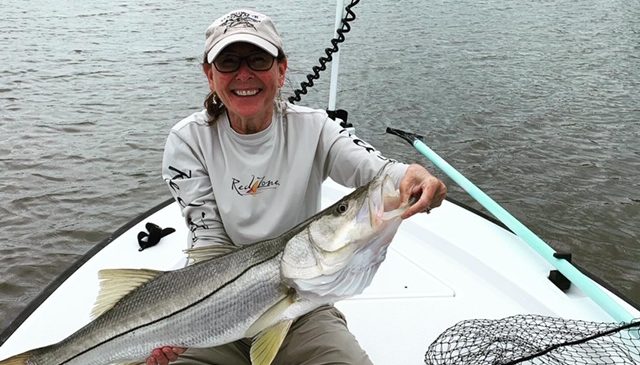 Backcountry snook have been very aggressive. Its been some of the best I've seen in many years with over slot snook released almost every day. My clients have been ecstatic. These fish are hitting soft plastics and top waters during the first part of the falling tide right to the bottom of the tide but we are pushing the envelope some days. It seems the extreme low water is holding the bigger fish and sometimes we only get an hour or less to target them in some spots. The bigger fish have been laid up 4 to 8 feet from the mangrove but also smaller fish are tight to the edge.
Redfish have spiced up the trips and are eager to also hit the soft plastics especially the Zman 4 inch jerk shad in purple. These fish are very aggressive and you barely get your bail closed before they are all over your offering. We have also been getting good bites on gold spoons and shrimp.
Big gator trout have been on the prowl on the outside grass flats. Its been really great fishing and fills in when we can't get into the back. Big jacks have been coming in with the tide with the bait fish and some are in the 10lb range. Great fights on the light tackle.
I will try to do more reports here on my website but you can always go to Instagram @captjohnpfeiffer or on Facebook at snookhookerfishing.com.
Just a note> Due to the Covid19 Pandemic I am follow all the sanitization and cleaning recommended by the CDC. I have wipes on board as well. I am sanitizing the rods with hospital grade disinfectant after every trip. so get down here and fish. The summer is some of the best of the best.
So the photo is my client Maura with her personal best snook. Just under 40 inches. Incredible.
FISH THE TIDES, NOT THE CLOCK!
See you soon.
Capt. John