GREAT FISHING, GREAT CLIENTS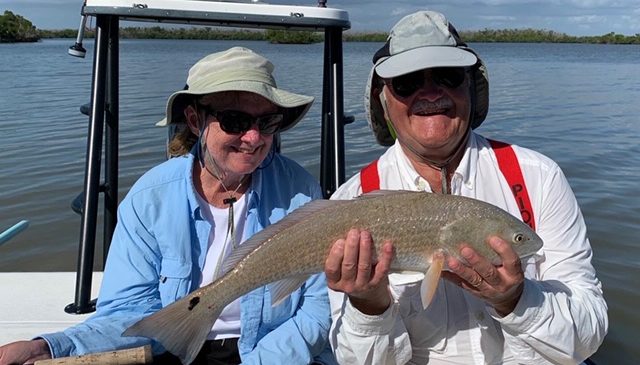 Great fishing with great clients. I have been blessed with both. Chazz and Chrissy were a delight. We fished 5 days. Both are great anglers and have fished all over the world. They caught dozens of redfish and snook plus some gator trout. Truly just a great fishing week.
There have been sporadic shots a tarpon this past week. We jumped a few but a cool front coming may put them down for a while. Soft plastic 5 inch paddle tails have been the ticket but now we wait for the warm up and the tarpon will be back in force with in a few days.
Check out my Instagram page @captjohnpfeiffer for updates. Also at Facebook at snookhookerfishing.com for fishing reports.
Snook have become plentiful now. Using paddle tails and top waters has been the productive combo. Large shrimp tossed under the mangroves have also produced some respectable specimens. Hitting the tide just right, looking for shore birds and moving water will put you on the right track. Savvy anglers always look for the signs.
Working the edges of the mangroves and oyster bars are still producing nice numbers of redfish. Taking your time and being observant will serve you well. Watch for bait such as finger mullet and glass minnows and target those areas. These reds patrol shore lines and oyster bars looking for anything that moves. Crabs, shrimp, small baitfish and seaworms are all on the menu. Using Gulp 4 inch swimming mullet in white or gray with a red jig head have been producing strikes. Remember to close that bail just before your offering hits the water. Redfish are notorious for hitting within 2 to 3 turns of your reel when your presentation is inches from the shore line.
If you are looking for tarpon you better get your bookings in now. March is half full and going to close out fast. April is a great fishing month for big snook and tarpon. Don't wait!
FISH THE TIDES, NOT THE CLOCK
Capt. John