WINTER FISHING IS OFF THE HOOK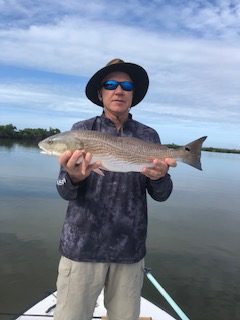 The winter fishing is off the hook. We had our first real cold front come through a few days ago and dropped the water temps 10 degrees. Air temp on Tuesday was 38 dgrees in the morning so I postponed that days trip but this is what we were waiting for. Expect the fish to get into more of a predictable winter pattern.
The next day it was on. Got out on some of the dark bottom flats and started picking up some trout, pompano and ladyfish. As the day warmed up we got into some nice redfish because of the 3 degree warm up during the morning.
Redfish have been now taking up in the second bays around oyster bars and shorelines. The falling tide has been best but the flood tide has produced good numbers also. Slow and low is the presentation now the water temps have dropped, however, as the day goes on you can be more aggressive with your presentation. Swimming mullet Gulps have been working well.
Snook have moved to warmer backwaters but are still eager to attack a properly presented bait or lure. Again we have been using Gulp mullet with 1/8 oz. jig head. we have also used flashy 1/.8 oz. bucktails and have received our share of bites.
Sea trout will turn back on with the warm up. There are plenty of small trout in the deep cuts but if you want the bigger trout you have to fined some grass or dark bottom. Jerk bait, plugs and jigs have produced some trout over 24 inches.
I have some days in the first 2 weeks of February open still. You can catch up here or go to my Facebook page snookhookerfishing.com or also Instagram @captjohnpfeiffer
Give me a call and let me set up a trip in the Ten Thousand Islands. We leave from Calusa Island Marina in the fishing village of Goodland, FL. We will fish from Goodland to Everglades City. Lets go fishing.
"FISH THE TIDES . NOT THE CLOCK"
Capt. John