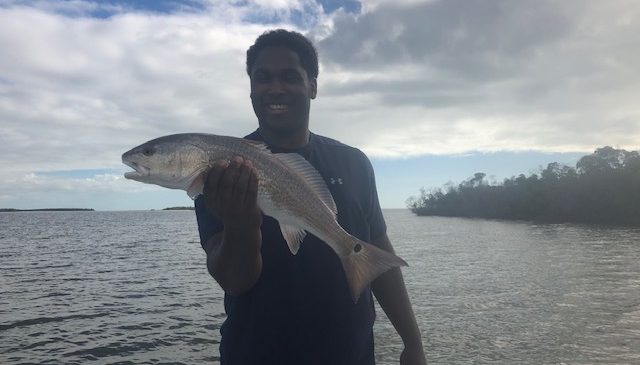 Incredible fishing this season. The New Year started off with a bang. We have been banging the redfish, snook and seatrout. Its not just because we have had great weather. There have been challenging days with the wind but working with my clients and getting them to get the presentation just right has paid off.
We have our first real cold front upon us. That may change the game a bit but a quick warm up is in the forecast. Its all about acclimation. These fish get a little shock but they seal the little deeper water or the darker bottom flats that warm up quick from the sun.
I had several new clients this week who had zero experience casting a spin rod and they connected with their first redfish, snook and trout. It just take a little couching and you can do it. Booking 2 trips really give you the advantage. Second day you are all ready with the first cast. The photo of Desmond above is a case in point. He never casted a rod before but you see the results. You will see the rain behind him making the photo a bit fuzzy but he persevered and came out the winner.
I still have some dates open. A handful in January and some open in February. Give me a call and lets chat about your goals. I will do my best to make a memorable trip for you.
FISH THE TIDES, NOT THE CLOCK
Capt. John