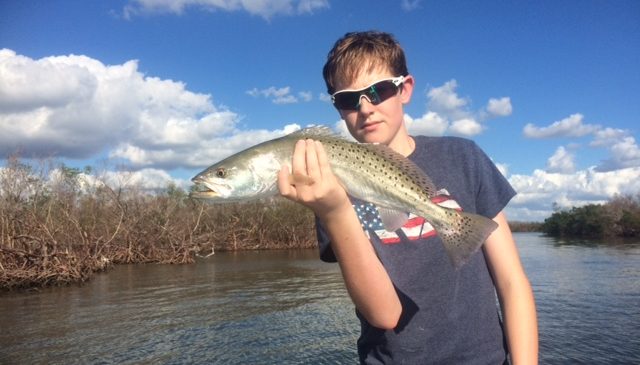 Ok folks here is the Naples Fishing Guides report for snookhookerfishing.com for Naples and the Marco area. The backwater fishing in the Ten Thousand Islands has been very consistent. The speckled trout and redfish have been very eager to bite over the past two weeks. Rapala Shadow Raps and Xraps and jigs tipped with shrimp have produced good numbers and all the other suspects such as jack crevalle, mangrove snappers, ladyfish and silver trout have been keeping the anglers very busy.
The first cold front of thee season came through this weekend and the fish responded as usual. Leaving a bit later in the morning allowed the flats and backwater bays to warm up a bit. Fishing the tides and not the clock we connected with the trout and reds during both the incoming and outgoing tide. the speckled trout were stacked up at time along the deeper edges of flats. The offering of Rapala Xraps and jigs tipped with shrimp produced very good bite. Slowing down your presentation is critical when the water temps drop. The redfish were out on the flats on darker bottom and around the edges of the oyster bars. There are a few snook around as the day warms up. They will be on the darker bottom and will respond to a low and slow retrieve. I cant stress enough that when these cold fronts come through try to leave a couple hours after sunrise and find darker sun exposed bottom.
Shrimp and popping cork presentations have produced good trout, snook and snapper bites during lower light conditions. That popping cork is like ringing the dinner bell. Use light leader about 18 to 20 inches from the cork. Keep you rod low to water and give that cork a sharp pull to create that sound of fishing feeding.
I want to thank all my clients for a great 2017. I have been honored to guide you.
Above is a picture of Jake Flippen with a very nice speckled trout. Below is Jake with a redfish. He and his father John did a great job using the Rapala Jerk Baits and had fish on from the first cast.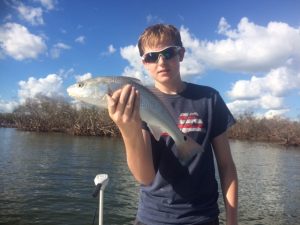 Tagged: Jake