TEN THOUSAND ISLANDS SLAMS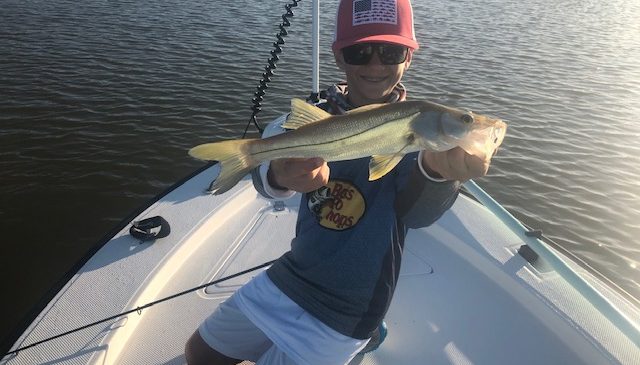 Just this week there have been 2 slams fishing the Ten Thousand Islands on the snookhookerfishing.com skiff. That is a snook, a redfish and a speckled sea trout caught by one angler. The cooler water has the fish moving into their usual haunts.
We have been catching at least 6 reds per trip because of the cooler water. The reds are all over the oyster bars and mangrove shore lines. Jigs tipped with shrimp and 3 inch gulps in the shrimp pattern have received eager bites. These fish are not shy on the take. Great fun on light tackle.
Snook are in the back bays and ready to pounce on jigs and soft plastic presentations. There have been a ton of 18 to 20 inch snook with the occasional 25-30 inch. Moving tide is the key as these guys are ambush predators. Lots of fun on the light tackle.
Speckled sea trout have just come alive because of the drop in water temps. Shrimp on a jig head or a spiked jig has been the ticket. We have been catching tons of slot fish and we had several in the 24 inch range just this week.
Lets get those reservations in soon. Bookings are beginning to really fly in. I don't want you to miss out on our spectacular winter fishery here in The Ten Thousand Islands. We begin our trip at Calusa Island Marina in Goodland Florida, the gateway to the Ten Thousand Islands. Let me guide you to a great day on the water.
The photo above is Cameron holding a snook just before releasing. Cameron caught his first slam, a snook, a sea trout and a redfish. Congrats Cameron!
"FISH THE TIDES NOT THE CLOCK"