Redfish and Gator Seatrout Using the Rapala Jerkbait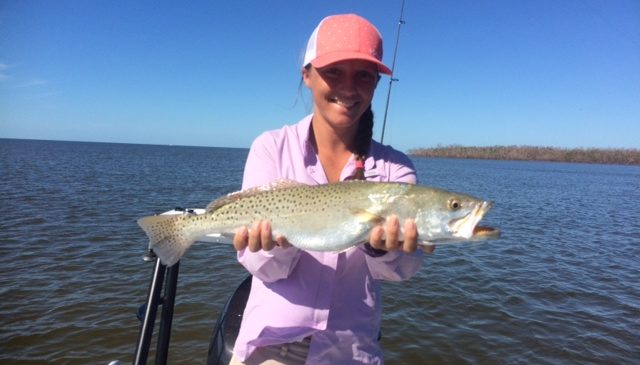 Angling for redfish and gator seatrout using Rapala jerkbaits has been very productive this week. There is bait around the points and with the strong moon tides the redfish and gator seatrout have been waiting for the right presentation. The flashy Shadow Rap has been proven  winner with the higher water and turbid conditions. We always have off color water during the full moon phase when the range of tides is 4 foot or better.
Redfish
Redfish have been in their usual haunts cruising edges of oyster bars and flats. They have been waiting for enough tide to slide up on the flat at higher tide. The Rapala jerkbait and also jigs tipped with shrimp have been very productive.
Seatrout
The seatrout have been the largest I have seen in several years. 24 inch fish have been common. The seatrout have been very happy attacking the Rapala  jerkbait the Shadow Rap as well as jigs tipped with shrimp and popping cork presentation.
Snook
Snook have been around but a bit off on the bite this week. Once this turbid water clears up the next couple days it will improve. We have released many in the 20 to 24 inch range at first hour or so of daylight.
On The Fly
Its been a bit windy but the good caster can punch through it. With the turbid water from the full moon sight casting has been limited to higher tides. Shrimp and small baitfish patterns have been productive. Blind casting the points and oyster bars has produced reds and snook.
The season is really taking off. Bookings are very strong. Get your reservations on the books especially if you looking around the holidays. Days are becoming limited and I don't want you to get shut out of some great fishing.
Capt. John
snookhookerfishing.com