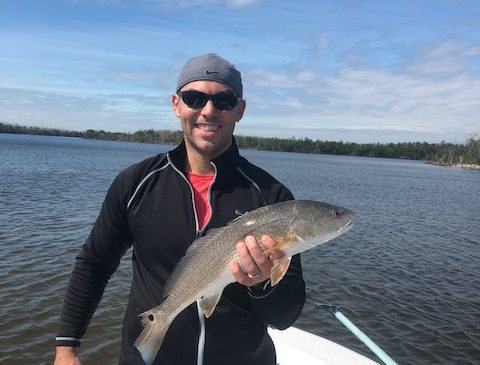 This past week the light tackle redfish bite has been off the chain. My clients are averaging 12 releases a day. I have been using light 7ft St. Croix rods with 2000 Penn Battle 2 reels. The reels are loaded with 10lb Sufix braid and 20lb leaders. Low and slow has been the presentation style so that is the reason the hook up ratio has been high.
Water temps have dropped a bit and that is making the fish more active. I have been starting to move back into the Ten Thousand Islands into the 2nd and 3rd bays. Fishing the falling tide has produced not just redfish but snook, seatrout and some large jacks.
I have been using tripped jigs and Gulp shrimp rigged weedless but you have to slow down the presentation. These reds are foraging on little crabs and shrimp so crawling your offering on the bottom has been the ticket.
I still have some days open in December. With the holidays coming those days will get booked quickly. I am anticipating a great season as proven by the past month of great activity. So lets go fishing! Give me a call and I will tailor a trip just for you. Its a great time to bond with your son, daughter or grandkids as this is personalized fishing since my limit is 3 clients on board. I can dedicate a great deal of time with the kids to make it a memorable experience.
FISH THE TIDES NOT THE CLOCK